MUSCLETONEBULLYS KENNELS
​WELCOME TO MUSCLE TONE BULLYS. WE ARE AN INTERNATIONAL FACILITY LOCATED IN WEST POLAND BUT WE HAVE KENNELS ALL OVER THE WORLD.
OUR OBJECTIVE IS TO BUILD ABKC
AMERICAN BULLIES WITH LARGE BLOCK HEADS, THAT ARE SHORT, STOCKY AND COMPACT. THIS MUSCLE TONE AND LARGE BONE IS LIKE NO OTHERS HAVE DONE AND WITH THE PERFECT TEMPERAMENT. WE BREED FOR INTELLIGENCE AS WELL AS CONFIRMATION. OUR BLOOD CONSISTS OF 100% MUSCLETONE.
OUR DOGS MEET ALL ABKC STANDARDS.
WE HAVE BULLY'S IN ALL COLORS FROM BLUE , FAWN, TRI COLOR , BLACK, CHAMPAGNE AND CHOCOLATE. THEY ARE AGILE, FIT, ENERGETIC, AND LOVE TO PLAY. THEY ARE GREAT WITH CHILDREN AND OTHER DOGS. OUR DOGS LIVE IN OUR STATE OF THE ART FACILITY. THEY ARE WELL MANNERED AND TRAINED. SOME HAVE COMPETED IN WEIGHT PULL, AGILITY, POLICE PROTECTION, AND DOG TRACKING. THESE DOGS CAN DO IT ALL AND WE WANT TO SHOW THE WORLD JUST WHAT THIS BREED IS CAPABLE OF.
PEOPLE CALL AND ASK , "HOW DO YOU GET YOUR DOGS SO THICK?" "WHAT DO YOU FEED THEM?"
​AND THE ANSWER IS SIMPLE, "GENETICS."

MUSCLETONEBULLYS IN MEDIA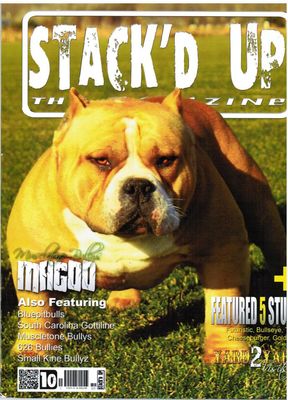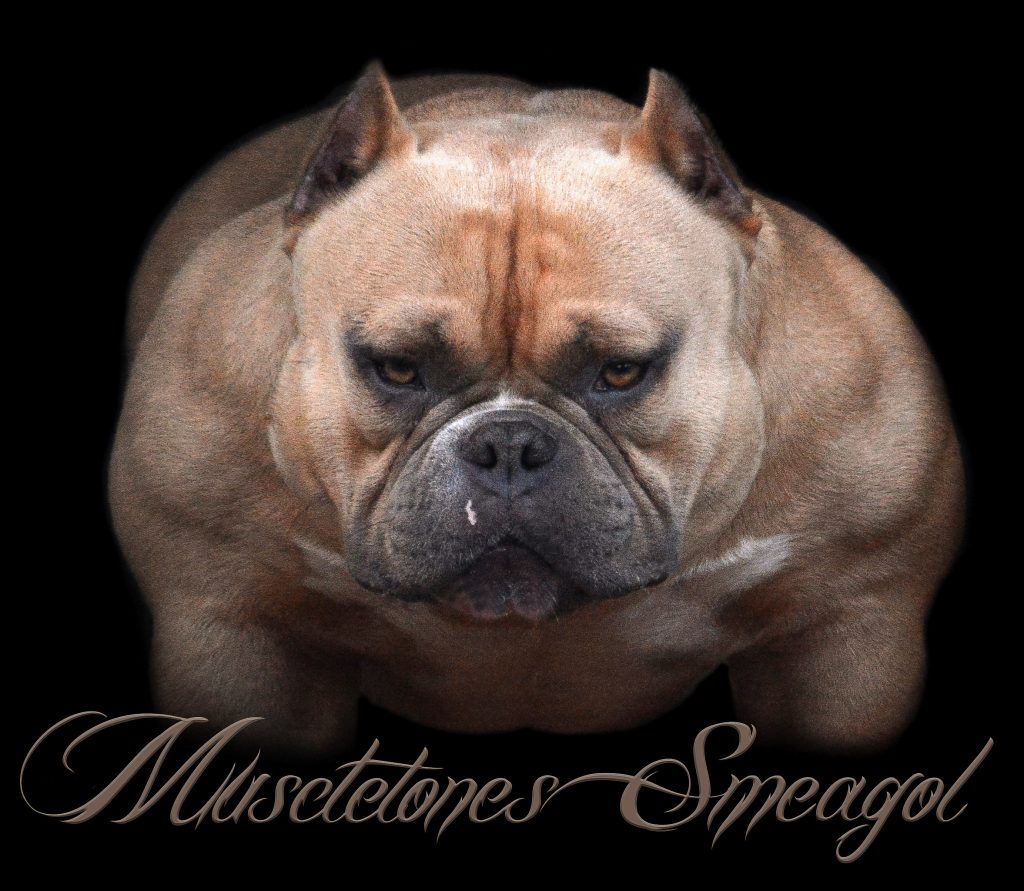 AMERICAN BULLY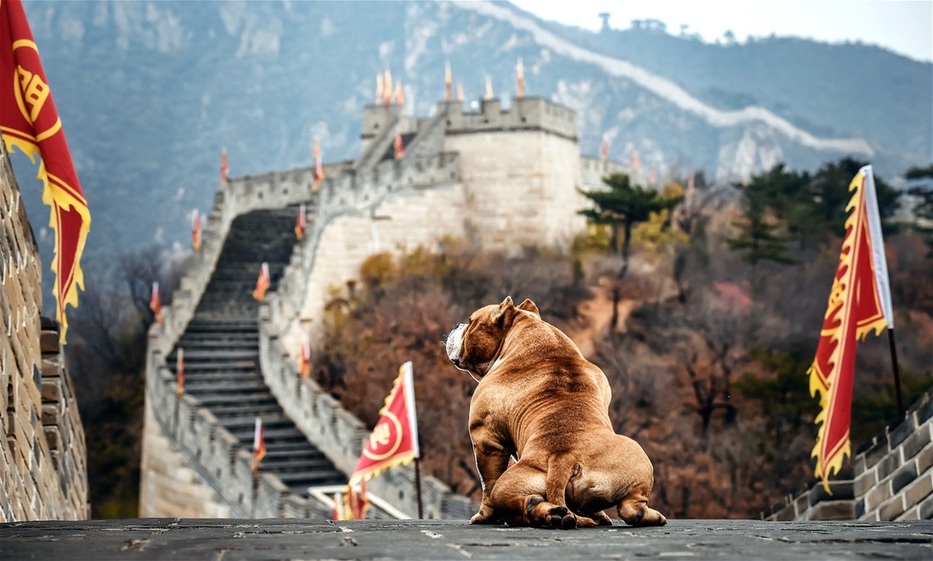 ABKC CHAMPION MUSCLETONE'S MAGOO HAS TOUR THE WORLD FROM PARIS TO ROME BELGIUM TO SPAIN THE AMERICA'S AND NOW HERE HE IS CLIMBING THE WALL OF CHINA MAKING HIS MARK IN THE AMERICAN BULLY HISTORY LIKE NO OTHER MALE EVER HAS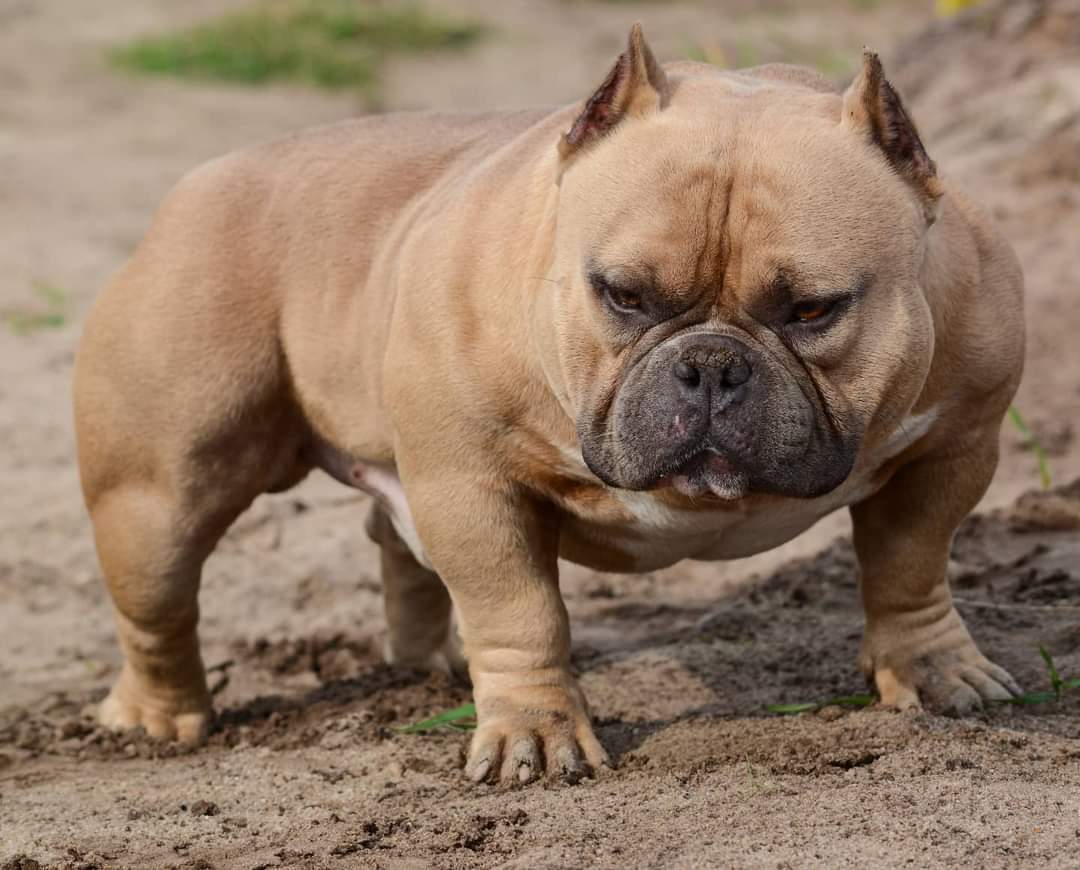 MUSCLETONE'S SUPER SMEAGOL A LEGEND
producer of the wonderful appearance of this breed.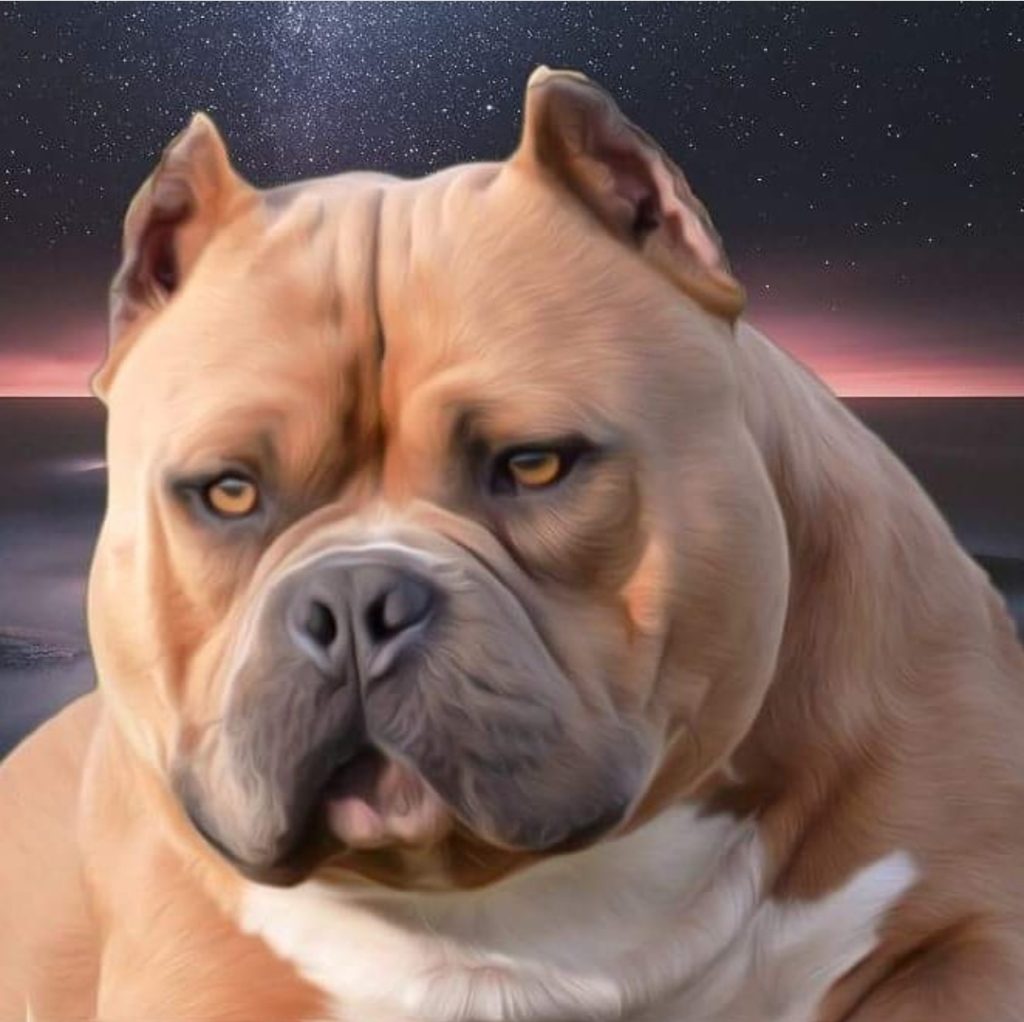 Amerykański Bully to pies, który został stworzony pod koniec XX wieku. Są one często mylone jako Amerykański Stafford Shire Terrier, choć wszystkie te rasy pochodzą od American Stafford Shire Terrier, ale nie są zgodne z typem American Stafford Shire Terrier. Jest związek (stowarzyszenie) o nazwie American Bully Kennel Club, który oficjalnie stworzył American Bully, ta jako nowa rasa powstała z różnych ras Bully. Rasa ta powstała w 1990 roku, została stworzona, aby nadać nowy kierunek i z korzeni Terrierów. Wszystkie pozytywne cechy rasy były przechowywane, jak lojalność, stabilność z ludźmi i inne imponujące cechy fizyczne. Cechy agresji psa i zbytniej dominacji zostały wyeliminowane z tej rasy.
Rasa została utworzona i jest obecnie promowana jako "American Bully". Rasa ta nadal niesie przodków z "American Stafford Shire Terrier" i innych ras Bully i nadal ma do czynienia z renomą tej rasy, ale to nie to samo. Coraz większa popularność American Bully na świecie spowodowana jest przekonaniem ludzi, że jest to piękna rasa. Jak również przyczynia się do stwierdzenia, u narastającej większości społeczeństwa, że jest to więcej niż nowa rasa, to… American Bully. Mimo wyglądu, który napawa respektem, Amercan Bully łamie wszelkie stereotypy. Ludzie z niedowierzaniem stwierdzają, że American Bully może być tak łagodnym psem.
Chcesz zostać posiadaczem wspaniałego psa o potężnej budowie??? Do dzieła wejdź w link PUPPIES FOR SALE albo BREEDINGS!